Copernic Desktop Search
Copernic releases today a free
Desktop Search
solution. It allows users to search their personnal computer for files, e-mails and even images and music.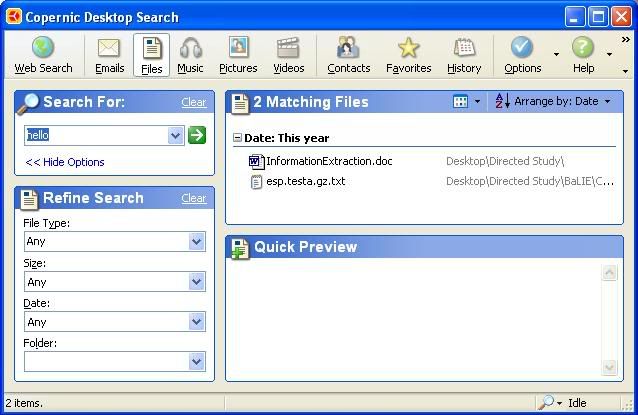 This product is one more evidence that many companies share the same plan to organize our desktop. There's indeed a
rumor
that Google is preparing such a product. Also, this is no secret that Microsoft plans to include enhanced searching in their next evolution of Windows. However, we'll have to wait until 2006 (and surely later) before Longhorn to be completed. Yahoo! is in the race,
preparing a product
that will index your destop as well as your Yahoo! mails and pictures.
HotBot launch a desktop search
earlier this year in the form of a Internet Explorer plug-in. Other companies (ex.:
Enfish
,
ISYS
,
SowSoft
, and
many more
) offer similar products but you have to pay for most of them.
This product remembers some early products like 1998's
AltaVista Discovery
that was indexing the desktop and proposing document summarization (using Inxight summarization Technology).
*** [Update Sept. 2nd] ***
I use Copernic Desktop Search since 3 days both on my laptop and my desktop computer.
Here are my impressions:
Pros:
The program is robust, extra-fast and quietly runs in background.
The default view shows documents by date. It has an unexpected side-effect. It is rapidly becoming part of my routine to check what I did recently to see what is todo. It gives a kick start when you sit in front of your computer.
Cons:
I would have like to search e-mails and files at the same time. Unfortunatelly it is in two separate tabs and I have to perform two searches.
I dislike the deskbar. It has no default search selected, you always have to select it by hand. Moreover, if you want to search the web, you are limited to alltheweb..